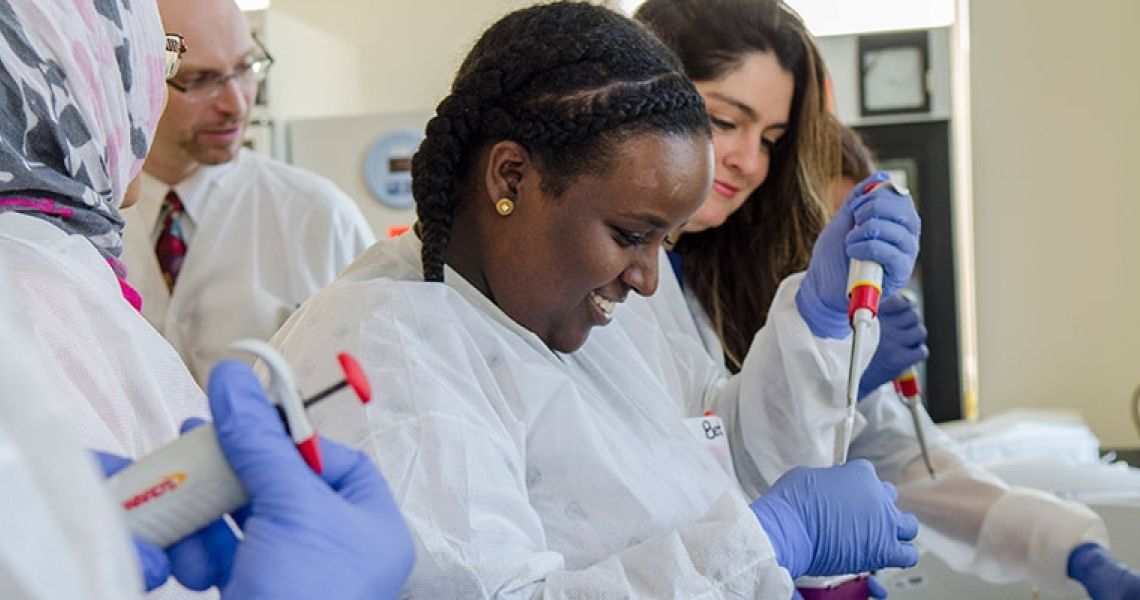 The Post-Baccalaureate Pre-Medicine Program is excited to announce a new Pre-Physician Assistant (PA) track. This program is intended for aspiring physician assistants (PA) from diverse backgrounds who have not taken the prerequisite science courses required for matriculation into PA school. The 12-month program is held at the GW's Virginia Science and Technology Campus in Ashburn, Virginia. The curriculum includes basic science courses that are prerequisites for many PA programs. In addition, our "Current Topics in Healthcare" course will provide students an opportunity to learn about relevant issues for clinical practice, including team-based practice, health equity, health care quality, and health policy.
Students will also receive personalized advising regarding extracurricular activities, such as volunteer clinical and research experiences, as well as assistance with navigating the PA school application process. For students who have not taken the Graduate Record Exam (GRE), a test preparation course will be provided at no additional charge. The first pre-PA cohort will start classes in May 2020. Interested candidates are encouraged to apply beginning in August 2019.
The Post-Baccalaureate Pre-Medicine (PBPM) Certificate Program has established a linkage with the George Washington University (GW) Physician Assistant (PA) Program. The linkage program enables highly qualified PBPM students with at least 1,000 hours of direct patient care experience and a minimum undergraduate GPA of 3.5 to apply in the fall semester of the program to our PA program. If admitted, students will transfer from the PBPM program to the GW PA program, thereby skipping the glide year. Acceptance to the PA program through the linkage program is contingent upon multiple requirements, including high achievement on the GRE test and maintaining a minimum GPA throughout the PBPM program.  
For more information, please contact the program at: postbac_premed@email.gwu.edu(link sends e-mail)
Pre-Physician Assistant Track Courses:
General Chemistry I with lab (4 credits)
General Chemistry II with lab (4 credits)
Organic Chemistry I with lab (4 credits)
Organic Chemistry II with lab (4 credits)
Biochemistry (3 credits)
Biology I with lab (4 credits)
Biology II with lab (4 credits)
Anatomy & Physiology I with lab (4 credits)
Anatomy & Physiology II with lab (4 credits)
Biostatistics (3 credits)
Current topics in healthcare I (1 credit)
Current topics in healthcare II (1 credit)
Medical Terminology (1 credit)